Click on the Attractions headings below or on the "link" icons in the images for more detail about the featured Attractions.
Bridgeview Yachting Centre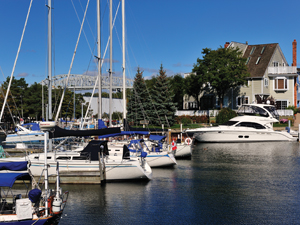 Bridgeview Marina is located in Point Edward (Sarnia), Ontario, directly across from Port Huron, Michigan. Bridgeview has 35 beautifully landscaped acres, and is a full service marina facility offering mechanical repairs, fiberglass work, new & used boat sales, and upholstery/canvas repairs. Bridgeview has the equipment (75 tonne open hoist) to allow for mast up winter storage and inside heated storage.
1 Marina Rd., Point Edward
1-800-265-0330
For more information Click here